Kicking off Earth Day celebrations, NNHS is organizing a Shola Trail as a part of "Neighborhood Trees Campaign"
We start at Attadi Junction on the Coonor- Kotagiri Rd and go up to Sarvanamalai. The trail will be led by Shiny M Rehel, Field Botanist and Compiler of Field Guides to Forest Trees of Nilgiris.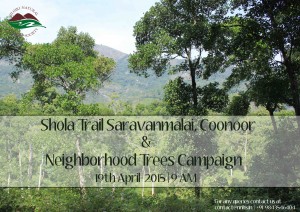 Please carry water and snacks.
Date: 19th April 2015
Time – 9 AM
Duration – 3 Hours
Trail Difficulty – Easy
Cost – NNHS Members: Rs.100 | Non Members : Rs.200
For Registration write to contact@nnhs.in
Meenakshi – 8098859984 | Vinod – 9843546404