Known as Longwood shola or 'Dodda solai', unique forest fragments such as this hold the mysteries of many a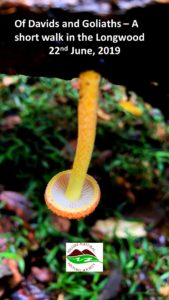 species – from the giant trees to the tiny mushroom. Walk with us as we explore these deep dark woods…
We assemble at the entrance of Longwood shola. Please carry water, and come prepared for some blessed monsoon showers (hopefully) and our friendly Longwood leeches.
Date: 22nd June, 2019
Time: 10 am
Duration: 2 hours
Trail difficulty: Easy
Cost: NNHS members: 250/- | Non-members: 300/-
For registration, write to contact@nnhs.in
Sharada: 9900522052
A short account of the Longwood walk…
With the monsoon rains deciding to join us on this walk, the leeches were up and waiting, as we made our way over the wet forest floor. It was however an enthusiastic group of 7, including a young budding naturalist who set out, ready and equipped (with salt, cameras, binocs and raincoats)  for all the forest had to offer. And we were not disappointed. For the first timers, the shola forest was like entering a magical kingdom of nature. For some others, it was a reminiscing of earlier times, retracing the steps of Michel Danino when they set out to protect the forest at Longwood. With a diverse group such as this, the interests were varied – the young naturalist stayed glued to the myriad insect life to be found on every log, tree or on the ground;  many a hopper, beetle, and fly caught his keen eye. The birder on the other hand was tuned in to the calls of the scimitar babbler and the prinias high up in the trees. The botany enthusiast was happy clicking at the fruits, flowers and leaves of numerous plants. While the jungle fowl remained invisible, only to be identified by its calls through the thicket nearby, the Malabar giant squirrel made no attempt to hide as it moved noisily along the high branches in the canopy.  The forest watch, Mani gave foraging tips as he showed the edible stems and fruits of various plants, some sweet-sour, some fresh and crunchy.  A tasty treat relished by all. With the rains, the forest was also alive with numerous fungi, sprouting away – in colours ranging from white, orange, brown; from large clusters of bracket fungi on dead logs to tiny little ones on live tree trunks. The stream was a hotbed of activity with red mud crabs busy digging away which provided for a lot of fascination to our young naturalist who spent quite some time observing them. The others in the meantime were admiring the beautiful tree fern that was swaying gently in the breeze as conversations over shola forest ecology continued. Very soon it was time to go, and as we headed out, we each left with plans to come back, again.