Mullur- Mandarai Trail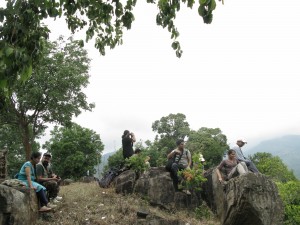 The trail was kicked off from the mamaram toll gate under an overcast sky with birding and walking on our minds.
Mr. Shivalingam was kind enough join us inside the gorgeous deciduous forests and assist our party with birding.
Bearing in mind the possibility of an encounter with the elephants of that area we took off from the mamaram estate towards our destination 'Mandarai'. Mr. Ramesh who owns an ancestral estate in the vicinity was kind enough to let us pass through and even joined us on our little trail. . We were feeling nostalgic as we walked along the Sullivan's road which extends from Sirimugai to Kannerimukh near Kotgairi. This also happened to be the route used by Tipu sultan's men. As we walked Mr. Ramesh enlightened us with his repertoire of tales of this area.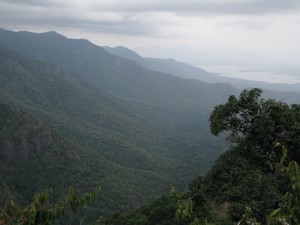 The tales span from the Horse riders' of the sultan to the Tuttukarai top which was used as a vantage point by the Coimbatore Collectorate to send and receive messages through 'DhakRunners'. Our main agenda when we started was birdwatching and as we moved on we realised there was a lot more to this trail than meets the eye like cultural, historical importance attached to different rocks we glimpsed, Irula hamlets, streams and precipices which are a testament to the will of mountains. Then we passed Kunjappanai(pathu line), made the relatively steep climb and broke for some refreshments as we thanked the heavens for the overcast conditions(cool breeze). Then we moved on towards the breath-taking view of the Moyar from Mandarai temple.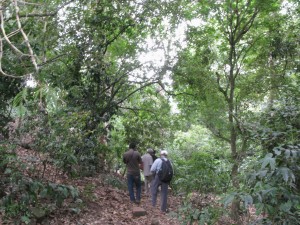 We had to maintain a single file here as we walked along a jungle path which was strewn with clues which pointed towards the unassailable fact that the largest land mammals were around us. We reached Mandarai and sat down to enjoy a view of the Moyar as we heard some more tales which ranged from honey hunting on the steep cliffs to the hideouts of the infamous 'Veerappan'. As we made our way back from that magical place we couldn't help but appreciate all the animals, trees, people and views we saw and the ones we didn't as well.
If we can take something back from this experience it would be that 'we should never leave even a single stone unturned for underneath is a story, a gateway to our natural world and our humble beginnings.'