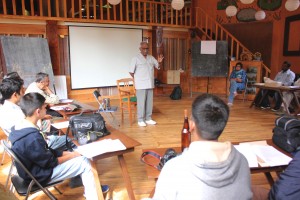 NNHS was privileged to host a one day workshop on nature photography by the legendary TNA Perumal. We were indeed honored that Perumal Sir accepted our invitation and made the long journey to Kotagiri inspite of his health condition. He shared freely from his experiences and insights. He encouraged all of the participants to speak and share. It was an inspiration to see some one at 83 who was up to date with the technology and the skill.
20 persons from in and around the Nilgiris participated amongst whom were students from Lawrence School Lovedale, members of Coimbatore Nature Society, NNHS members from Kotagiri, Coonoor and Ooty. Thanks to each one of you for coming and making the event a success.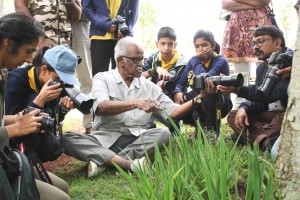 To be in the company of a giant like TNA Perumal was indeed humbling when one saw all the hard work and perseverance that went in to excelling. The day started with an introduction by Sir which was followed by a brief time outdoors, shooting and discussing light. After lunch we were enthralled by a slide show of pictures taken by the legend that were 40years old and also 4days old! The pictures needed no words yet we plodded Sir to speak about each of them and he spoke maybe a line or two.
We were reminded how much time was spent in the company of nature by early photographers essentially since technology was still basic. The time spent was invaluable in terms of natural history observations and understanding especially of animal behavior. TNAP reminded us of the need to excel in our pursuits and to always have the curiosity about our subject. He reminded us of the ethics of nature photography and the need to adhere to them.